By Paschal Norbert
MERU, NOVEMBER 8, 2022 (CISA)– The Apostolic Nuncio to Kenya and South Sudan, Archbishop Hubertus Maria van Megen has encouraged the faithful to continue praying for the cause of beatification and eventual canonization of the Servant of God Maurice Michael Cardinal Otunga during the beatification ceremony of Blessed Maria Carola Cecchin in Meru, November 5.
"Let us call for the intercession of Sr Maria Carola Cecchin for the beatification of Cardinal Otunga so that as a Church in Kenya we can build up on our blesseds and saints as there are many who have gone before us and many of the great Church," the nuncio said in his speech at the occasion.
The nuncio was referencing the process of canonization of the much-loved former Archbishop of Nairobi and Kenya's first African Catholic bishop, which was formally started in 2009 by John Cardinal Njue, archbishop emeritus of Nairobi but is yet to progress to the second stage of canonization in which the Servant of God is declared 'Venerable'.
13 years later, two beatification ceremonies of early missionary sisters: Blessed Irene Stefani Nyaatha of the Consolata Missionaries and Blessed Sr Maria Carola Cecchin of the Cottolengo Sisters have been held in the country.
In his speech, Archbishop van Megen urged the faithful to embrace their Christian living and make the Church a model of their way of life so that the few beatified people in the local Church can be an inspiration for the future Church.
"Many in this great Church, can be an inspiration for us and in a sense, Blessed Maria Carola Cecchin can be the first. Now, we have to look forward so that our Church becomes more part of our culture and more of our history," implored Archbishop van Megen.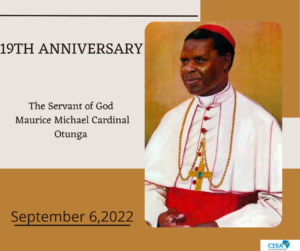 Born on January 31, 1923, in Chebukwa village, Bungoma County, Cardinal Otunga died on September 6, 2003, at the age of 80. He served the Church for 53 years as a priest, bishop and cardinal.