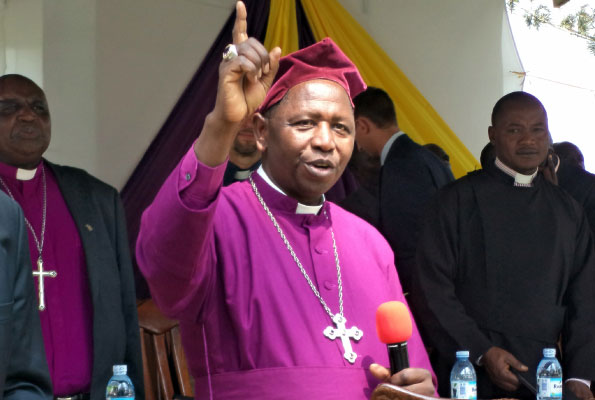 KAMPALA AUGUST 4, 2017 (CISA) –  Anglican Archbishop Stanley Ntagali of Kampala, has said that he will not attend the next meeting of Anglican leaders citing the gradual acceptance of same-sex marriage by the church.
In an interview with the BBC Archbishop Ntagali, said he was not prepared to engage with people who took "an unbiblical view of marriage."
He made the comments August 3 after joining the global leader of the church, Justin Welby – Archbishop of Canterbury – to visit refugee camps in the country's north, reported African News.
Archbishop Welby is on an African tour that saw him visit Sudan where he declared the 39th province of the church in Khartoum.
The next meeting of the church's global leadership commonly known as the Anglican Communion is slated for October this year in England but Archbishop Ntagali says he will not take part – a decision supported fully by senior clergy of the local church.
Nigerian archbishop Dr Josiah Idowu-Fearon, the secretary general of the Anglican Communion, said: "I support the Bishops' declaration that doctrine on marriage should not change – that marriage should be a lifelong commitment between a man and woman," he said.
"The Anglican Communion position is set out [opposing same-sex marriage]. That is our lodestar," added Archbishop Dr Josiah Idowu-Fearon.
The Archbishop made an early exit from the last leaders meeting held in January 2016, citing the same issue as reason for his action.
The Anglican Communion had been due to hold its once-a-decade meeting of global bishops, known as a Lambeth Conference, in 2018.
However, the Conference has been indefinitely shelved over fears that there would be a boycott. The last Lambeth Conference to actually be held, in 2008, was also boycotted over LGBT rights.
Deep divisions have arisen in the global Anglican Church over LGBT issues, with a stark contrast between teachings in largely pro-LGBT Western churches and hard-line anti-gay Anglican churches in Africa and the Global South.
In the past few years, Canadian Scottish and American churches have all sparked anger from hard-line African archbishops by modernising on LGBT rights, embracing gay bishops and same-sex unions. The Church of England has also begun to make reforms.