By Paschal Norbert
MAMFE, NOVEMBER 8, 2023 (CISA) – The Chairperson of the African Union Commission (AUC), Moussa Faki Mahamat has condemned in the strongest terms the "terror attack" that has left over 20 people killed, several injured and several homes torched in Mamfe, South West region of Cameroon.
In a pots on X on November 7, the AUC chairperson said "I condemn in the strongest terms the horrific terror attack that occurred in Egbekaw, Mamfe, in Cameroon's South West Region that left more than 20 civilians dead and destroyed their homes. My sincere condolences to the bereaved families, the people and the Government of Cameroon."
In the early hours of Monday, November 6, unknown assailants stormed a locality of Mamfe in Egbekaw town, Manyu Division of the Southwest Region of Cameroon, and opened fire on the residents while setting fire to several houses. According to authorities, the overnight attack left at least 20 civilians dead, however, local accounts suggest a higher death toll.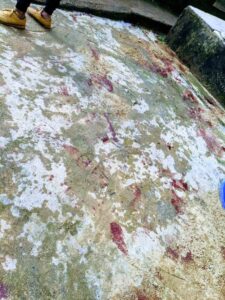 While also condemning the attacks, Rt. Rev Aloysius Abangalo Fondong, bishop of the Catholic Diocese of Mamfe who visited the site of the massacre in New Layout Egbekaw stated "that we vehemently condemn the atrocious act that brought about the destruction of the lives of so many innocent men, women, and children."
Former Cameroon presidential candidate, Akere Muna, who unsuccessfully sought to unseat President Paul Biya in 2018, also expressed shock at the massacre in Mamfe.
Reacting to the news, he said, "I had promised myself that I would refrain from writing about the horrors, chaos, and mayhem inflicted by these wicked spirits who now haunt the North West and the South West regions of Cameroon, bringing nothing but misery upon their own people. Guzang was heartless and beyond cruel. However, the recent events in Mamfe have left me utterly heartbroken and speechless. More than 20 individuals brutally murdered by gunshots and burned, women raped before being killed, a baby's life taken away, and homes reduced to ashes."
In calling for the unity of the country, Akere Muna noted "This wave of violence is now a clear and present threat to our unity which might soon be replaced by hatred. If our nation does not unite and seek a path to peace, we will find ourselves sliding towards complete chaos and recurring revenge. To those who are grieving, my prayers go out to you, may you find solace, strength, and resilience through divine intervention. Our beloved country is unrecognizable now. As for those who derive pleasure from such barbaric brutality, let them know this, their day of reckoning is fast approaching."
At the time of the release of this story, there were no confirmed claims of responsibility for the attack, which is suspected to have been carried out by Ambazonia separatists operating in Southwest and Northwest regions of Cameroon, government security forces or criminal armed groups from neighbouring Nigeria.
Since 2017, Cameroon's predominantly English-speaking Northwest and Southwest regions have been gripped by conflict since separatists declared independence in the same year out of years of grievances over perceived economic and political discrimination by the francophone majority.
This act of secession has been met with a violent crackdown by the government security forces and resisted by President Paul Biya, 90, who has ruled the central African nation with an iron fist for 41 years.
On November 7 at St. Joseph's Cathedral Church, Mamfe, Bishop Fondong led the faithful in praying "for the eternal repose of the souls of those murdered; for the quick recovery of those gravely injured; and, for the conversion of those who perpetrated the heinous act."