By Sr Dr Jacinta Opondo, FSSA 
NAIROBI, SEPTEMBER 15, 2023 (CISA)–Founded in 1984 as a Jesuit School of Theology to a few students of the Society of Jesus (Jesuits), Hekima University College (HUC) has advanced its mission as a centre for excellent formation, research and intellectual scholarship committed to offering a high-quality, integral, and contextualized education to include students from about fourteen local and international religious congregations.
As part of the celebrations marking the 40th anniversary of the Jesuit institution, Sr Dr Jacinta Opondo, a member of the Franciscan Sisters of St. Anna (FSSA) and a faculty member at HUC Jesuit School of Theology writes about the noble mission of HUC in providing opportunities to religious women to study theology for a stronger foundation for ministry, personal enrichment and greater capacity for leadership.
                                                                ***
For 40 years, Hekima University College (HUC) has been faithful to its mission of ensuring excellent religious and personal development, promoting research and scholarship, and providing quality integrated education based on the finest traditions of the Jesuit humanistic and scientific heritage.
Inclusivity and Formation of Young Women Religious
In 1984, the Jesuit Superiors of Africa and Madagascar (JESAM) founded the Jesuit School of Theology at Hekima College (now HUC). The primary purpose was to provide theological education in a university environment for candidates for the priesthood. Realizing a notable lack of diversity, especially the paucity of women in theological scholarship, Hekima redefined its mission to be more inclusive.
From a programme focusing on exclusive Jesuit formation, HUC conceived and kick-started a holistic religious formation for novices and young, professed religious women to mitigate the challenges of inadequate qualified personnel in most formation houses. These courses were initially offered on the Hekima Campus. When limited space could no longer accommodate the large number, the courses were moved to the McCarthy Center of the Assumption Sisters of Nairobi, while some courses were given at the Tumaini Centre, of the Association of the Sisterhoods of Kenya (AOSK). The objective of this initiative was to give formators who were entering Religious Institutes the requisite credentials to ensure they educated well-formed women for their missions.
Inclusivity of Programmes
The above initiative, bore by Rev. Dr. Cecil McGarry SJ, one of the founders of HUC, metamorphosed so that in 1996, HUC opened its doors to women seeking to study for a Bachelor in Theology; thus, committed to the formation of men and women, religious and laity, seeking to participate in the evangelizing mission of the Church. The move aimed to create opportunities for African women to undertake theological formation, promote diverse voices in theological discourse, and enhance the profile of HUC as a leading resource for the Church.
Inclusivity and Opportunities
The imbalance in representation catalyzed HUC to redefine its mission of formation and recruit accomplished women theologians as members of its faculty, including Dr Theresia Gacambi ASN, Dr Agnes Anne Nasimiyu LSSF, Dr Mercy Amba Oduyoye, Mrs Luch Osmera, Prof Philomena Mwaura, Dr Constansia Mumma, and Prof May Getui, in addition to admitting women students. In the succeeding years, this initiative was vigorously pursued by successive principals of HUC, including Rev Dr Joseph Oduor Afulo, SJ; Rev Dr Aquiline Tarimo, SJ and Rev Dr Agbonkhianmeghe E. Orobator, SJ; as reflected in the deliberate recruitment of women into various Hekima scholarship programmes.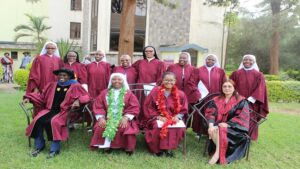 In 2008, five scholarships were offered, with priority given to sisters of the institutes of diocesan right through AOSK. Having received only one applicant from these institutes, the other scholarships were offered to sisters of the institutes of the pontifical right who were already enrolled in the B.Th. programme.
In 2008-09, HUC entered into a partnership with the Catholic Theological Ethics in the World Church (CTEWC) to create a scholarship programme for African women to obtain doctoral-level training in theological ethics (Scholarship Programme for the Advanced Training of African Women in Theological Ethics). Because many of the intended beneficiaries did not possess the requisite graduate qualification for a doctorate, the project was modified to allow participants to study for a Master's Degree and then proceed to a PhD. Eight scholarships were created and awarded to 8 of the beneficiaries (seven religious and one lay woman), six of whom received Post-Doctoral Fellowship Scholarship at Boston College, upon graduation. Most of them have gone on to be leaders in academia, in their local churches or religious institutes and are making significant contributions to their communities, the Church and society.
While it was important to ensure competence for the PhD studies for African Women, it was also necessary to open a path to other African women, starting at the undergraduate level. This would create a pipeline of African women to pursue higher degrees in theology. As a result, during the tenure of Rev Dr John-Okoria İbhakewanlan SJ, HUC created the St. Ignatius Scholarship for Women Theologians and Doctoral Scholarships for African Women Theologians, both of which offer opportunities for women to study theology at all levels.
The latter offers full scholarships for doctoral students, while the former offers partial scholarships for MTh and B.Th. students, under the auspices of HUC.  Furthermore, HUC partnered with the Conrad N. Hilton Foundation to roll out a scholarship programme – Hilton-Hekima Sisters Scholars Programme (HHSSP) – for religious women to pursue a certificate course in theology as part of ongoing formation for religious women.
Forty years into its illustrious existence, HUC remains strongly committed to the theological education and formation of women, drawing on the generosity of organisations and people of goodwill to realize this vision. This commitment continues to yield significant results, for example, the current Principal of HUC, Rev. Dr. Marcel Uwineza, SJ has acquired the following scholarships for women students: The Fr. Michael Garanzini Scholarship that supports five women in Peace studies; a partial Scholarship from Mr. Chris Lowney for one student in peace studies; and a partial scholarship from Mr. Mike White for one student in the B.Th. programme. These laudable initiatives give HUC a cause to celebrate women's empowerment through theological education.
Celebrating Years of Women's Theological Empowerment
Going into the future, HUC is committed to the theological formation of women who will serve as influential agents of change and development in the academy, Church and society in Africa and beyond. Although Hekima has endeavoured to offer opportunities to women theologians, the latter's voices are still seldom heard. Recognizing these gaps, Pope Francis assigned women to handle key responsibilities in the upcoming Synod on Synodality, providing a golden opportunity to appreciate the role of women in the Church. HUC's efforts, align with the vision of Pope Francis, recognizing and validating the indispensable leadership role of women in advancing the mission of the Church. The Synod on Synodality provides an auspicious moment to appreciate, strengthen and expand the role of women in the Catholic Church.
Celebrating its fortieth anniversary, HUC re-affirms its commitment to educating women theologians by organizing a conference on the theme: "African Women Theologians and Synodality." This conference celebrates its vision of women's empowerment and represents a commitment to promote the contribution of African women into theological discourse and ensure respectful listening to their voices in the Church in Africa in the spirit of synodality. With this conference, HUC wishes to celebrate its contributions to women's theological empowerment and make the voices of African women louder in theological discourses. Hopefully, this conference will significantly prompt the well-deserved respectful listening of African women theologians by the Church.