By Arnold Neliba
NAIROBI, NOVEMBER 21, 2023 (CISA )-The Kenya Council of Governors (CoG) has expressed willingness to collaborate with Mother Earth Network on environmental conservation and management, and information sharing in addressing the effects of climate change in the 47 counties in the country.
Anchored on Pope Francis's second encyclical Laudato Si, the network is composed of civil society groups, corporate bodies, faith-based organizations, government agencies and institutions of learning jointly working toward the realization of the seven goals of Laudato Si.
According to Kizito Wangalwa, the Director of Committees and Programmes at the CoG, the county governments will experience a change through the County Integrated Development Plan (CIDP) that informs their annual plans and also captures environmental issues.
He intimated that the COG in partnership with the network, will give room to work with Early Childhood Development Education (ECDE) and Technical and Vocational Education and Training (TVET) institutions since working with schools has proved to be sustainable.
"This is part of the conversation we have been pursuing as a council on specific roles that have been given to the county governments on matters of children," Mr Wangalwa said, further noting that there is a lot to do in the counties on matters environmental conservation.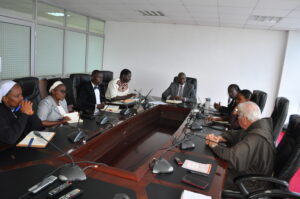 Mr Wangalwa was addressing a delegation led by Fr Herman Borg, founder of Mother Earth Network alongside collaborators: Sr Hedwing Muse of the Association of Sisterhoods of Kenya (AOSK), Sr Jane Kimathi of Gender Network Initiative, Kasisi Daniel Wafula, founder of Eco Changes Initiative, and Washington Ndirangu the Coordinator of Mother Earth Network, who had paid a courtesy call to the COG on November 20 at their offices in Westlands.
"For a faith-based group to have a chance to cooperate with the council of governors is a step forward. Jointly we can do much more for the environment. My aim is that what I achieved in lower Subukia by planting close to ten million trees can be replicated in different parts of the country with the partnership with the counties," said Fr Borg.
Popularly known as Baba Miti, a name he earned courtesy of his contribution to impacting livelihoods by planting ten million trees in lower Subukia in the Catholic Diocese of Nakuru, Fr Borg says his initiative is of a global view, to touch the lives of those close and in further places by engaging in environmentally friendly practices.
Currently, Mother Earth Network is running activities in Nairobi, Nyeri, Homabay, Migori, Vihiga, Nakuru, and Kitui. The organization has also received invitations from Narok, Kisii, Mombasa and Taita Taveta. The invitations are to rehabilitate acres of land in areas without sources of water and minimal rainfall.
Alongside counties, Mother Earth Network targets partnering with regional and continental governments and non-governmental organisations to ensure the realisation of Laudato Si's vision.