By Arnold Neliba
LILONGWE, OCTOBER 3, 2023 (CISA)– Catholic bishops from Zambia, Malawi and Zimbabwe have put in motion plans for the second sub-regional consultative meeting to take place in July 2024.
The sub-regional conference, including members of the Episcopal Conference of Malawi (ECM), the Zambia Conference of Catholic Bishops (ZCCB), and the Zimbabwe Catholic Bishops' Conference (ZCBC) will be held from July 15 to 19, 2024, in Salima, Malawi, on the theme "Building Bridges: Strengthening Faith, Unity and Service".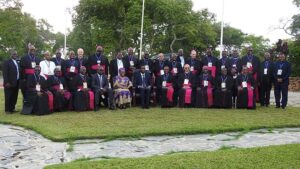 According to ECM, the national conferences will jointly discuss and address 'important matters' about faith, community and the challenges they face in the region.
"The Sub-Saharan Conference provides a platform for Bishops to exchange ideas, share experiences and collaborate on initiatives that promote unity, spiritual growth and social justice within communities. This conference plays a vital role in fostering dialogue and strengthening the bonds among the three conferences across the region," ECM announced on September 30.
In preparations for the conference, Archbishop George Desmond Tambala, President ECM has instructed the national organizing committee in collaboration with diocesan committees to hold a fundraising for the upcoming event.
The bishops are also calling for financial assistance from well-wishers to aid the conference.
The areas of deliberation for the July meeting include the promotion of unity, spiritual growth through discussions on scripture, addressing contemporary challenges faced by communities, strengthening pastoral leadership and networking and collaboration among bishops and participants.
In February 2020, the bishops held their first joint meeting in Lusaka, Zambia, during which they deliberated on the formation of a new regional body of bishops comprising the three countries. For the time being, they agreed that Malawi and Zambia will continue to belong to the Association of Member Episcopal Conferences of Eastern Africa (AMECEA) and Zimbabwe to the Inter-Regional Meeting of Bishops of Southern Africa (IMBISA).