By Paschal Norbert  
FRIBOURG, NOVEMBER 15, 2023 (CISA) – Regarded as one of the pioneer figures of African Theology, Fr Prof.  Bénézet Bujo has died at the age of 83.
The native of the Democratic Republic of Congo (DRC) and professor emeritus of the University of Fribourg, Switzerland, died after a long illness on Thursday evening, November 9, at the Friborg Cantonal Hospital.
Born in 1940 in the province of Ituri, in the northwest of DRC, the late Fr Bénézet Bujo obtained his license in philosophy and theology at the Major Seminaries of Murhesa (Bukavu) and Niangara (Isiro) as well as at Lovanium University in Kinshasa, then still under Belgian colonial rule.
After his priestly ordination for the Catholic Diocese of Bunia, DRC, and a few years of working in parish ministry, he pursued doctoral and habilitation studies at the Julius Maximilian University of Würzburg from 1978 to 1983. From 1983 to 1988, Bénézet Bujo taught as a full professor at the Faculty of Catholic Theology of Kinshasa (now Catholic University of Congo), before being appointed as the German-speaking chairperson of moral theology, social ethics and African theology at the Faculty of Theology of the University of Fribourg. A position which he held until his retirement in 2010.
According to an obituary published by the University of Fribourg on November 14, Fr Bénézet Bujo taught numerous courses in Europe and Africa. For instance, in 1985 he was the first visiting professor of 'Theologie Interkulturell' at the Department of Catholic Theology at Goethe University in Frankfurt am Main. He received invitations from Saarbrücken, Nairobi, Lund, Johannesburg and Antananarivo (Catholic University of Madagascar).
After his retirement, he served as a theological advisor to Caritas Africa for five years, from 2011 to 2015.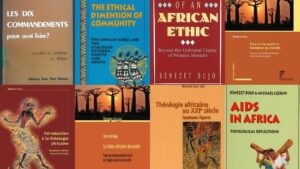 The University of Fribourg notes that from the beginning, Bujo's research had been oriented toward the search for an ethics that, in light of African traditions, takes seriously the deep relationships among human beings, including vital relationships with the world of ancestors and descendants, established by and in God as the spiritual foundation of all reality.
"The philosophical background was provided by the great authors of European scholasticism, but also and in particular by the discourse ethics of Jürgen Habermas, which he however significantly expanded with the concepts of an "ethics", "Consensus" or an "ethics of palaver" of African origin. In this way, he succeeded in formulating an authentic African Christian ethic, which made him known well beyond Fribourg. His numerous publications in German, French and Swahili bear witness to this," the university's faculty of theology noted.
Some of the books published by the late intellectual colossus include, "Introduction to African Theology" published by Academic Press in Friborg (12008; 22021), followed by a series of volumes on the great figures of African theology: Afrikanische Theologie in ihrem gesellschaftlichen Kontext (Düsseldorf 1986); Die ethische Dimension der Gemeinschaft (Vienna 1993); Wider den Universalanspruch westlicher Moral. Grundlagen afrikanischer Ethik (Freiburg i.Br. 2000); Plea for a new model of marriage and sexuality. Afrikanische Anfragen an das westliche Christentum (Freiburg i.Br. 2007), and the provocative "Diary of an African Theologian."
In her tribute, the University stated that "the Churches of Africa are not the only ones to owe a lot to Bénézet Bujo; French-speaking and German-speaking theology, without forgetting the Faculty of Theology of the University of Fribourg, are also indebted to the deceased with great gratitude."
"May he find in God what he has always insisted on: that man is a multidimensional being, who is not only individually composed of a body and a soul, but who, as that part of an integral world, finds its fulfillment only in the network of life of ancestors and descendants, these unknown saints, living in God," they stated.
Abu Nathaniel, in a post on Facebook, has eulogized the late professor as a trailblazer in the field of African Theology. He said, "Rest in Peace Fr. Prof. Benezet Bujo. You were one among the few and in fact, the leading figure, who tried to give voice to African Theology and African Moral Theology. Your inculturation project and your summary of African Ethics as the palaver are apt and appealing. Your death is a great loss to the African continent. May God be with you as we try to keep your legacy alive."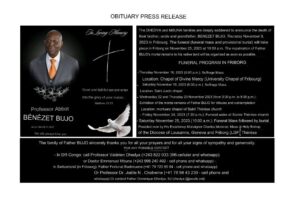 "Africa has lost one the pioneers of African Theology.  In the last past five years or so the African scientific community has lost a number of its great thinkers. Benezet Bujo joins his colleagues John Mbit,  Charles Nyamiti,  Desmond Tutu, Tharcisse Thsibangu, Ka Mana, Laurenti Magesa, Anne Nasimiyu, and Teresia Hinga, just to name a few. We are proud of you all, our elder brothers and sisters. You had a passion for Africa. The gap you have left is too big to fill. As the African Proverb says: "If we stand tall, it is because we stand on the shoulders of many ancestors. Dear Fr Bujo, you are now one among them. We shall stand tall on your shoulders.  May you rest in peace in the company of those, our ancestors, who went before you," wrote Innocent Maganya.
On November 25, 2023, a requiem Mass presided over by Rt Rev Charles Morerod, O.P., the bishop of Lausanne, Geneva and Fribourg, for the late professor will be held at the parish church of St. Thérèse, Fribourg, and thereafter a provisional burial will follow.
According to an announcement by the family, the transfer of the mortal remains of Prof Bujo to DRC, his homeland, will take place at a later date.