By Paschal Norbert
VATICAN CITY, OCTOBER 24, 2023 (CISA)- Most Rev Ignatius Ayau Kaigama, the Catholic Archbishop of Abuja has intimated that the Synod assembly meeting in Rome has no authority to change the teachings of the Catholic Church on "any subject matter" but only the pope.
In a post made on his Facebook Page on October 23, the Synod Delegate said "When we conclude our synod deliberations on the 29th of October, our reports, views and opinions will be submitted to the Holy Father, Pope Francis. If he decides on a change of any subject matter, he will officially communicate it to the Catholic World."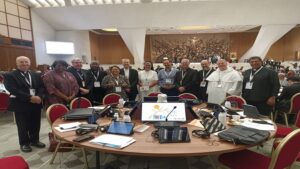 The Nigerian archbishop who has participated in different tables (round discussions) on contentious issues such as the acceptance of LGBTQ people in the Church and ordination of women at the Synod, allayed the fears of the African faithful in stating that "So far, no decision on any topic has been taken."
"No Church teaching has been changed. All the news about the change of some doctrines and traditions of the Catholic Church have no basis," he said, urging that "Catholics should go on practising their faith with fervour as they have been doing."
The prelate urged the clergy and lay persons privy to the checked deliberations at the Synod to inform the faithful of the true nature of discussions at the assembly and to not "worry" the Christians.
"Priests, Religious, Catechists, leaders of various lay Church organizations should kindly explain to the people who may be confused or worried on account of what they pick up from the media," he said.
With reports from Rome suggesting that the Synod on Synodality may be a "one-time Synod", meaning the same participants at the First Session of the Synod 2023 will also take part in the Second Session of the Synod in October 2024, Archbishop Kaigama admitted that after there is still another year of discussion before a final communication will be made to the Universal Church.
"We still have another full year (from now until October 2024) to digest what is happening in this Synod until we hold another Synod in 2024 to continue prayerful discernment and fraternal exchanges," the archbishop of Abuja stated.
On Saturday, October 21, Synod participants completed their work on section B.3 of the Instrumentum Laboris, "Participation, Governance, and Authority." This is the last week of the First Session of the Synod on Synodality.