By Arnold Neliba
HARARE, SEPTEMBER 1, 2023 (CISA)-"An audit of the whole exercise may give relief to the electorate to whom ZEC is answerable. This may help the nation to be satisfied by our electoral process," Catholic Bishops in Zimbabwe have said on the just concluded contested elections, which saw the incumbent Emerson Mnangagwa declared the winner with a 52.6 percent vote.
In a statement released on August 31 by ZCBC's Catholic Commission for Justice and Peace Zimbabwe (CCJPZ), the bishops observed numerous challenges in the administration of the elections that created room to dispute the outcome of the election.
"…we encourage ZEC to give an account to the nation about the delays and procurement of voting material and the missing names on the voter's roll. The opening of the polling centres during the night may surely bring to question the preparedness of ZEC in the just–ended election," the bishops queried in a statement signed by Bishop Rudolf Nyandoro, Chairman of CCJPZ.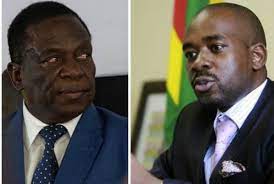 The bishops also highlighted delays in the start of the voting process, late delivery of ballot papers which extended voting to the next day, inadequate lighting facilities in some stations, unavailability of voting material in some stations, campaigns near the polling stations and voter interruptions and suppression as some of the forms of electoral malpractices.
"We call upon all the aggrieved parties to redress their grievances following the legal procedures," the bishops said cautioning against hate speech by some members of various political parties.
"Let us all shun barbaric actions that are contrary to the Christian ethos and national values as stated in the preamble of our national constitution. Violent actions paint a negative picture of the whole election process," the bishops appeal.
Commenting on the harassment of human rights groups and election observers in the run-up to the August 23 General Elections from the Southern African Development Community (SADC) observer mission and the European Union Observation Mission (EU EOM) for their position on criticizing the conduct of polls- the bishops called for the respect of the organisations.
"…let their objective assessment of the elections help us as a nation to correct ourselves and move on. Their input should enrich us and act as the light of Christ showing the nation, where corrections are needed," the statement reads.
The incumbent president, Emmerson Mnangagwa was declared the winner of the election with 52.6 percent of the total tally, which has since been contested by his main rival Nelson Chamisa of the Citizens Coalition for Change (CCC) who got 44 percent of the vote.