By Arnold Neliba
NAIROBI, SEPTEMBER 15, 2023 (CISA)-"Dear brothers we communicate the joyful message that today, the team that was examining the medical validity of the miraculous healing of the Yonomami, IT IS MEDICALLY A MIRACLE… We continue praying the Lord for the theological part to end positively and very soon," reads an announcement by Fr Erasto Colnel Mgalama, the continental councillor of Consolata Missionaries in Africa.
The developments shared on September 13 to Consolata Missionaries working in Africa follow an approval by the medical team of Dicastery for the Causes of Saints which had been investigating the validity of the miracle that took place in the Catholic Diocese of Roraima, Brazil, on February 7, 1995.
In a telephone conversation with CISA,  Fr James Lengarin IMC, the Superior General of Consolata Missionaries, confirmed the news of the miracle and further stated that though an official document has not been issued, the congregation for the causes of saints communicated that the medical finding "is positive and has been accepted as a true miracle."
During his visit to Africa following his election in August, Fr Lengarin hinted at this announcement when he said, "This is the announcement we are waiting for when this medical commission will sit in September. They have not given us the exact date but it will be early September."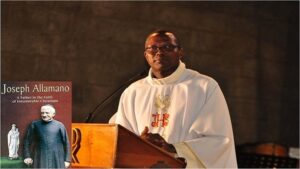 From March 6 to 16, 2021, the diocesan inquiry into the alleged miracle attributed to the intercession of Blessed Joseph Allamano took place in Brazil, in the Diocese of Roraima. It was about the healing of Sorino Yanomami from a very serious head injury due to an attack from a jaguar near the mission of Catrimani.
The acts of the diocesan inquiry were delivered by the postulation team to the Congregation for the Causes of Saints, in Rome, on April 7, 2021, so that the congregation could examine its contents and pronounce the validity of the inquiry.
On June 23, 2021, during an appointment with Cardinal Semeraro, Prefect of the Dicastery for the Causes of Saints, to have an insight into the process, the Consolata Missionaries were informed that the special Commission of the Congregation for the Causes of Saints had examined and considered the validity of the acts of the inquiry, according to communication by the institute shared on the website for Consolata Missionaries in Africa.
The approval by the medical team paves the way for the theological examination which will evaluate and provide theological scrutiny of the evidence presented for the potential sainthood of Blessed Allamano.