By Pamela Adinda
NAIROBI, SEPTEMBER 29, 2023 (CISA)- With the August 19th declaration that Hekima University College's (HUC) 40th Academic Year 2023-2024 has begun, JCAM President Fr José Minaku Lukoli SJ, inaugurated Hekima's Jubilee celebrations.
"Life begins at 40" goes a popular Kenyan saying. But in its short life, HUC can already boast of alumni who are famous theologians, academicians, and leaders in various capacities.
From a small institution that began in 1984 with a handful of Jesuits and a few religious congregations, HUC holds strong to its vision as a centre for excellent formation, research, and scholarship, committed to offering a high-quality integral and contextualized education founded on the finest traditions of the Jesuit humanistic heritage. This is one reason why fifteen other religious congregations currently have their men and women receiving formation at Hekima.
HUC Principal Fr Dr. Marcel Uwineza SJ noted in his inaugural welcome speech that the shifting demographics in global Christianity indicate that the future of Christianity is in the Global South. Dr. Uwineza, an alumnus of Hekima, sees this as a divine kairos (moment of challenge and opportunity) for Hekima University College. "Our desire in collaboration with faculty, staff, and students, above all our trustees and university council, is to make HUC a centre of excellence in theology and peace studies. Sooner or later, more and more schools of theology in the Global North may close. Perhaps HUC will become the best alternative for the English Speaking World," he observed.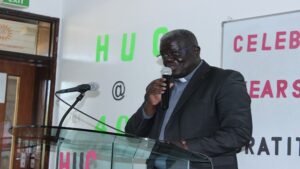 While Dr. Uwineza elaborated on the Biblical symbolic meanings of figure 40 and made inferences to it with regards to Hekima University College turning 40, JCAM President Rev. Minaku noted that the number 40 was ambivalent, depending on whether you are entering or leaving the 40-year cycle.
"Entering the cycle of 40 years means that you are entering a period of mortification and purification with the risk of losing an entire generation!" Rev. Minaku said (referring to the forty days of wilderness wandering in the story of the Israelites), adding that HUC attaining the age of 40 is a milestone given the significant transformation and renovations that are currently being undertaken.
HUC's Journey of the past 40 years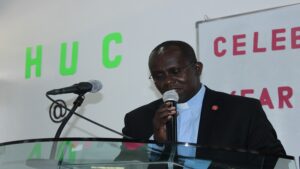 The theme chosen for the celebrations of the 40th Anniversary is "Going Further: Moving from Better to Best!"  Dr. Uwineza noted that the last four decades have been a time of preparation and while the institution celebrates its strengths it endeavors to improve on the areas of weaknesses, thus moving from better to best. He revealed that out of 20 members of the faculty in the Jesuit School of Theology, sixteen are former students of HUC.
The JCAM President, who is also the chair of the Hekima Board of Trustees, said that it's time to continue exploring what we can bring to the world that is facing the same old challenges, but with renewed and sustained enthusiasm. He noted that the world is witnessing a regression in peace, in respect of human dignity, and the value of life, therefore Hekima should not forget what her founding father, the then General of the Jesuits Pedro Arrupe, emphasized; being witnesses and becoming prophets! "It is our purpose to draw from our rich history in our theological pursuit by thus providing prophetic hope in a broken world," Fr Minaku said.
What the celebrations of 40 years entail
According to Fr Dr George Macharia, SJ, the Registrar of HUC who is steering the yearlong celebrations, the conceptualization for the whole year which took into consideration the past, the present, and the future, entails several projects and activities, some of which have already begun.
"Going forward we would like to improve both the physical and the virtual infrastructure at HUC. We plan to expand our programs, increase the number of students, expand our Open Distance and e-Learning (ODEL) as well as increase our networking," Dr Macharia explained.
So far HUC Principal Dr Uwineza confirmed that most of the buildings at the institution have been renovated and equipped with modern technology and, in keeping with the spirit of Laudato Si, more than 250 palm trees have been planted around the two campuses. He promised that more work would be done soon, especially at the Tarimo Student Commons, located on the undergraduate Campus.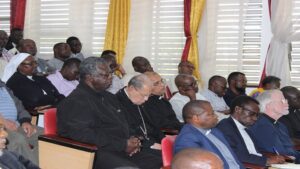 "We are working hard to find an endowed chair that will strengthen scholarship in theology and peace studies. We are looking forward to hosting major conferences and lectures and we have invited seasoned professors who will mentor our junior faculty who are working on new publications," Dr. Uwineza added, as he shared part of the activities lined up for the celebration of 40 years.
The question of space is inevitable as the institution endeavours to expand student populations as well as its programs. Dr Uwineza revealed that HUC is looking forward to acquiring more land and property to enable expansions. He further said that collaboration with the Eastern African Province of the Society of Jesus is to HUC's advantage and hoped that God will grant them the Good Spirit to collaborate more.
Finally, what distinguishes an academic institution of higher learning from other academic institutions is research and publications. Thus in Dr. Uwineza's words, "HUC continues encouraging research and publications by the faculty and students and promises to do what is possible to support them."