By Paschal Norbert
Cardinal Giorgio Marengo IMC, an Italian Consolata Missionary, has become the youngest cardinal of the Catholic Church at the age of 48.
The Apostolic Prefect of Ulaanbaatar, an episcopal see that covers the entire jurisdiction of Mongolia was elevated to the office of a cardinal at the August 27 consistory in the Vatican.
Pope Francis bestowed upon him the famous red zucchetto that symbolizes courage and willingness to suffer martyrdom for Christ also making him the first cardinal to represent Mongolia.
Cardinal Marengo was born on June 7, 1974, in Cuneo, Piedmont, Italy. He studied philosophy at the Theological Faculty of Northern Italy from 1993 to1995 and his theological studies at the Pontifical Gregorian University of Rome from 1995 to1998.
He made his religious vows as a member of the Consolata Missionaries, known officially by the Latin name, "Institutum Missionum a Consolata" (IMC) on June 24, 2000.
He was ordained a priest on May 26, 2001. After six years of study at the Pontifical Urban University in Rome, where he obtained a licentiate and doctorate in missiology. He was missioned to Mongolia in 2003, making him the first Consolata missionary in a young missionary Church in Asia.
In 2016, he was appointed as the regional counsellor for Asia, superior for Mongolia and parish priest of Mary Mother of Mercy Parish in Arvaiheer.
On April 2, 2020, the Holy Father appointed him as the Apostolic Prefecture of Ulaanbaatar after 15 years of missionary work in Mongolia. He was ordained a bishop by Cardinal Luis Antonio Tagle, prefect of the Congregation for the Evangelization of Peoples.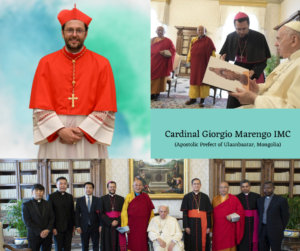 Mongolia is a vast country three times the size of France with a population of only three million and has one of the smallest Catholic communities in the world. It was only in 1992, at the beginning of the country's democratic processes that the first Catholic missionaries arrived in the region dominated by Tibetan Buddhism.
At present, the local Church has eight parishes and between 1,300 and 1,400 baptized members—a total number much lower than that of most parishes in Bishop Marengo's home country of Italy, but constantly increasing. The emergence of this Church had interested John Paul II, who wished to go there for the consecration of the cathedral of Ulaanbaatar in 2003, but the visit never materialized.
Mongolia is a large sparsely populated landlocked country in eastern Asia bordering Russia to the north and China to the south. For most of its history, Mongolia was closed off from the world and little was known about the country or its people.
Adopted in part from Aleteia and UCANEWS