By Arnold Neliba
WUKARI, OCTOBER 31, 2023 (CISA)-Fr Thaddeus Tarhembe of the Catholic Diocese of Wukari, a recent victim of the unending kidnappings in Nigeria targeting priests, religious men and women working in the country has been released.
The parish priest of St. Ann's Parish, Sarkin Kudu in Ini Local Government Area of Taraba who was kidnapped on Sunday, October 29 in the parish rectory was released on Monday, October 30.
"With our hearts full of joy and thanksgiving, we wish to inform the general public that Very Rev Fr Thaddeus Tarhembe, a Priest of the Catholic Diocese of Wukari, who was kidnapped in the early hours of Sunday, 29th October 2023, in his parish residence of St. Ann's, Sarkin Kudu, has regained his freedom. He was released by his abductors yesterday Monday, 30th October, 2023, in the late hours of the day," said Fr John Jerome Laikei the Diocesan Communications Director on behalf of Bishop Mark Nzukwein of the Catholic Diocese of Wukari.
Shootings, arson and the disappearance of clergy have surrounded the incidences of kidnapping in the country despite some of the victims being released unhurt after days of captivity.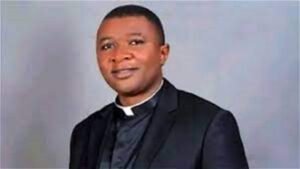 Kidnapped on October 12, 2022, the whereabouts of Fr Joseph Igweaguz of the Catholic Diocese of Aguleri remains unknown. For over a year, nothing has been said by his abductors who targeted him while he was on his way to his house after celebrating a funeral vigil Mass in Umunachi in the Njikoka Council area of Anambra East Local Government Area.
Shedding more light on the kidnapping crisis in Nigeria via Vatican News, Fr Michael Umoh the Director of Communications at the Catholic Secretariat of Nigeria said the worst hit areas are those in the north and Midwest of the country, noting that there are statistics on the number of kidnappings.
"One must first acknowledge that there are a lot of complex situations in the country, Nigeria, at the moment. For about 10 years now, things have not really been normal or have not gone well with the country generally," he said.
Although he kept off real reasons why priests are targeted in the kidnappings, Fr Umoh suspects that ransom which they use to buy more weapons, might be among the reasons for abductions. The target by the kidnappers is not the individual but "the Church where they think they can get a ransom."